| | |
| --- | --- |
| Stretch: | Low Divide Road bridge to Gasquet Store |
| Difficulty: | Class IV, verges on V at high water |
| Distance: | 14.6 miles, 1 or 2 days |
| Flows: | rafts 700 - 2000 cfs, kayaks 500 - 4000, IK minimum 250 |
| Gauge: | about 35% of Jedediah Smith gauge (JED) |
| Gradient: | 40 fpm average, steeper in gorges |
| Put-in: | West bank upstream of Low Divide road bridge, 875' |
| Take-out: | Along highway 199 near Gasquet Store, 290' |
| Shuttle: | 34 miles, mostly dirt road (over 1 hour) one-way |
| Maps: | Six Rivers NF, AAA Northern California, Topo |
| Season: | winter and spring, during and after rain |
| Agency: | USFS, private, guided Whitewater Rafting |
| Notes: | © 1998, 2002 Bill Tuthill, CreeksYahoo |
---
Perhaps the most scenic class III-IV run in California, this run by itself is almost worth the long drive from population centers. The Oregon guidebook Soggy Sneakers says it best: "this is a run of rare isolation and beauty." Insect-eating pitcher plants inhabit the banks along the river, and at one spot, you can boat into an eddy underneath an overhanging waterfalls.
With headwaters mostly in well-managed national forests, water on all forks of the Smith is generally crystal clear, even after heavy rains. Amidst a seldom-logged pygmy forest, the North Fork is exceptionally clear; at times you get the feeling of being suspended in air as you float swiftly over gravel bars. Many creeks enter the river, so the flow at take-out is about twice the flow at put-in. The 35% flow estimate actually varies by season: in the fall the percentage is somewhat higher, while in winter and spring it is somewhat lower.
Below the usual put-in, the rapids are rocky, particularly at low flows. At 400 cfs (200 cfs at put-in) short carries might be necessary. There are several steep chutes against cliffs.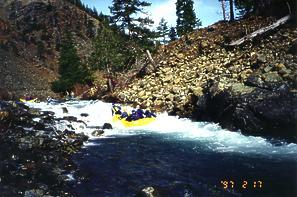 One steep chute following a rock garden
Diamond Creek comes in on the left at 1.3 miles, significantly increasing the flow. Shortly below, the river enters a gorge containing two unnamed class IV rapids in quick succession. The first is harder at high flows, when the second can be sneaked on the right. At low flows the second is unsneakable and thus harder. Class III rapids occur throughout the run.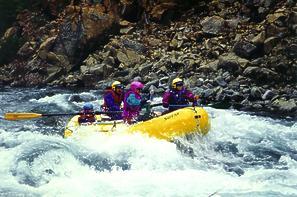 First unnamed class IV at medium flow
Still Creek enters on the right at 3.4 miles, offering a nice campsite for overnight trips on decreasing flow. A class III+ gorge occurs at mile 4.5, and a long curving class IV rapid (Landslide), with big holes at the bottom, around mile 6. Peridotite Creek comes in on the left at mile 8.5. At very low water there is another class IV- gorge around mile 10, which is mostly covered class III at moderate and high flows.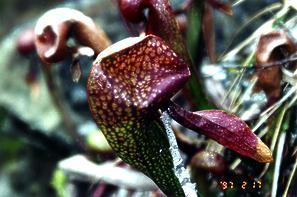 The famous insect-eating pitcher plant
Stony Creek enters on the left at mile 11.7, and houses of Gasquet become visible. The confluence with the middle fork occurs at mile 13. It is possible to take out on the steep left bank above the confluence, but this involves a long carry to the road and inconvenient parking. It is easier to continue another 1.6 miles to a good take-out right along highway 199.
To reach take-out, drive east on highway 199 until you reach Gasquet. You can hire shuttle drivers thru the Gasquet Store. Get an early start, because the 34-mile shuttle involves 21 miles of dirt road and requires 1 or 2 hours depending on your dirt road driving prowess.
To reach put-in, return towards Crescent City, but take the 197 turnoff towards Smith River. In 2.5 miles turn right onto Low Divide (Wimer) Rd. About 9 miles later, bear right at a T intersection with Rowdy Creek Rd. Proceed uphill past Wimer Springs, over a divide, and snake downhill to a bridge. Good public river access recently became available upstream on river right.
The North Fork Smith is also runnable higher up. On Low Divide road, continue past the normal put-in, snaking uphill for about 3 miles. Turn left on a road (shown on the AAA map) that goes to Baldface Creek, and drive about 6 miles northward. Put in near the confluence of the North Fork Smith and Baldface Creek. This adds 3 miles of class IV. Only one major tributary (Cedar Creek) reaches the North Fork between these put-ins, so if it's runnable at the normal put-in, it's always runnable at Baldface Creek. Come prepared with portage wheels or hike-in equipment, as this trip report by Andrew Coit would suggest:
I was up on the North Smith today with some buddies from Portland, and attempted the upper put-in (3 miles above the put-in). Went 4.4 miles past put-in bridge to first real-looking left turn onto well marked road (I am pretty sure it was the road to put in). We traveled another 3.8 miles and were greeted by a locked gate. It was completely impassible by 4WD vehicle. The sign said the lock was to prevent transport of Port Orford cedar disease or something of the sort. I'm not sure how far it was to the river from there; we could hear it but it seemed a ways still. We did not hike it as we had rafts.
To find nearby food and lodging, type Crescent City into the box and click Search.
Custom Search
Creeks Navigation
Home
Recommended Runs
Map of Rivers
Alphabetic Index
Alphabetic Table
Text Search
Sponsored Links