| | |
| --- | --- |
| Stretch: | High Bridge to above South Fork Gorge |
| Difficulty: | Class III |
| Distance: | 12.2 miles, 1 day |
| Flows: | rafts 800 - 3000 cfs, kayaks 500 - 2000, IK minimum 250 |
| Gauge: | about 47% of Jedediah Smith gauge (JED) |
| Gradient: | 30 fpm average, much steeper downstream |
| Put-in: | fourth bridge near Goose Creek, 545' |
| Take-out: | trail uphill to weigh station, 180' ? |
| Shuttle: | 12 miles, (20 minutes) one-way |
| Maps: | Six Rivers NF, AAA Northern California, Topo |
| Season: | winter and spring, during and after rain |
| Agency: | USFS, private, guided Whitewater Rafting |
| Notes: | © 1998 Bill Tuthill, CreeksYahoo |
---
This is a pretty run, marred in places by road cuts, with plenty of class II action and several class III rapids. Aside from the main and the middle fork below Gasquet, this is the most likely fork of the Smith to have enough water if there hasn't been recent rain.
Class IV boaters often continue into South Fork Gorge and take out at the first South Fork road bridge, or further down at Jedediah Smith State Park. The South Fork Gorge is essentially for kayaks only, because high flows are necessary to make slots wide enough for rafts. Inflatable kayakers are advised to attempt the gorge only at low flows. See the Smith River for Rafters and Kayakers for great pictures and writeups.
There is a class III gravel bar rapid straight into a large rock (1995) shortly after put-in. Gordon Creek enters on the right at mile 2.7, and Rock Creek on the left at mile 5.2. Just above the first bridge at mile 6.3 is a long class III boulder garden. Coon Creek enters on the right at mile 8.5, and around mile 10 there is a steep class III+ South Fork Falls, the most dramatic rapid on this run. Look for Craigs Creek on the right at mile 11.5, which marks take-out shortly ahead.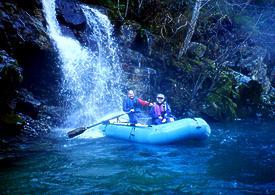 Nick and Nicole take in scenery (and a cold shower)
To reach take out, turn right onto South Fork Rd. from highway 199 about a mile east of Hiouchi. Cross the middle and south forks, then turn left and drive upriver about one mile (two miles from 199). There is a large turnout with trails leading left down to the river. Walk down to the river so you can recognize the take-out and avoid blundering into the South Fork Gorge.
To reach put in, drive about 10 more miles upstream. At the third bridge crossing (to river right), park and perhaps lower your boats on a rope from the bridge. Watch out for sharp steel, though; many a boat has been ripped there. The downstream bridges make alternate put-ins to shorten the run.
To find nearby food and lodging, type Crescent City into the box and click Search.
Custom Search
Creeks Navigation
Home
Recommended Runs
Map of Rivers
Alphabetic Index
Alphabetic Table
Text Search
Sponsored Links